Your roof is one of the most important aspects of your home, and quite often one of the most overlooked. To keep your family warm and dry, it is important to keep your roof in good condition. Harsh elements batter your roof all year round. Heavy snow fall as well as extreme high temperatures affect the materials on the roof. High winds can dislodge tiles or shingles and ice accumulation on the roof can damage materials too. To keep your roof in good shape, roofing professionals recommend annual inspections. It is a good idea to contract a professional for repairs, too, as roof work can prove dangerous. Without the proper training and equipment, it is not safe to attempt roof work yourself. For any roof work, contact a Union County roofing company to stay safe. Whether inspections or repairs, leave it to a professional Union County residential roofer.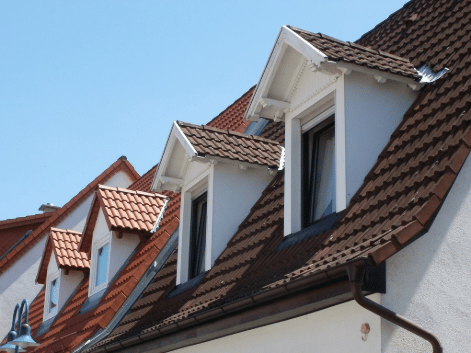 Union County Residential Roofer | Staying Safe
As a homeowner, you become pretty adapt at home repairs. Roof work, however, is definitely something you should leave to the professionals. Even in these days of do it yourself internet videos, repairing a roof isn't the same as changing a tire. It takes specialized training and equipment to perform the work safely. Slips and falls can occur easily, and roofing materials are heavy. Without the experience, replacing roofing materials is not as easy as it sounds. You need to know which precautions are necessary to ensure your safety at all times. Stay safe, and hire a professional for roof repair.
Union County Residential Roofer | A Job Well Done
Safety is a big reason for hiring a professional, but not the only one. As stated, it takes years of training to perform roof work properly. When you attempt to do home repairs, and fail, it can cost you more in the long run. Materials cost money, so if you do the work incorrectly, those repairs are now worthless. Your time is valuable, as well, and having to pay someone to fix your mistakes could cost you dearly. Do the job right the first time. Don't leave your family and home unprotected, with a leaky roof, and a depleted wallet. Hire a professional roofer to carry out roof repairs.
Union County Residential Roofer | How to Choose a Roofer
Once you have decided to stay safe and contract a professional to work on your roof, how do you choose one? When you hire a professional roofing company, don't be afraid to do some research. Make sure to hire a fully licensed and bonded company. This protects you and your home. Don't be afraid to ask for free estimates. Read reviews, you can often find these online, usually on the business's own website. Look for positive feedback and recommendations. Make sure you hire someone approachable and who you feel comfortable trusting your home to.
For peace of mind, and for safety's sake, leave roof repair to the professionals. They have the training and equipment to repair roofs safely and correctly. This is their field, and they know what they're doing. If you suspect your roof has suffered damage from the elements, don't delay, call an expert. The longer you wait, the worse the damage may become. Early detection means quick repairs which are better for your roof and your wallet. Schedule annual inspections to keep your roof in tip top shape and your home protected. Do some homework, and find a company you can trust, and who gives estimates. Make sure these detail not only labor and material costs, but also a timeline for work done. For a professional job, call your local Union County residential roofer.
Somerset County Roof Replacement
Somerset County Roofing Repair
Somerset County Free Roofing Estimate