Roofs receive damage all the time. Accidents happen, from inclement weather, falling trees, leading to broken tiles, vents, crumbling chimneys, the works. Most of the time, the damage done to roofs can be repaired. Either with a handy hammer and nails, or with help from professional services. However, sometimes the damage goes beyond a few broken shingles. Sometimes there are no shingles left. Sometimes the whole roof is deemed structurally unsound. Now roofs are important parts to the house (the biggest buffer between residents and rain). So, when the damage to a roof is severe, sometimes a total roof replacement is in order. Should the worst happen, you can easily get a Union County commercial roof replacement. They will provide a Union County free roofing estimate and get your roof on the road to recovery.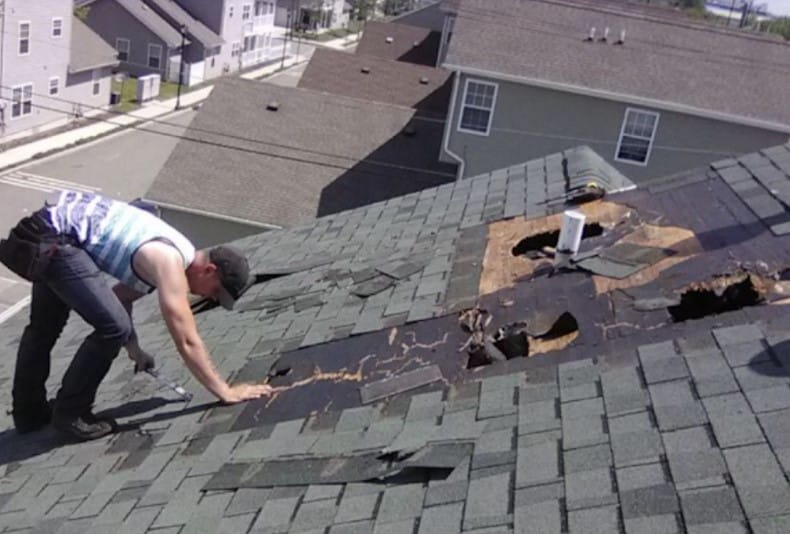 Types or roofs | Union County Free Roofing Estimate
It is an imperative mission, replacing a roof. There are many factors to consider, from expenses, needs, and materials. For example, there are many different types of shingled roofs. There are asphalt shingles, cheap but not very pretty. Wood shingles are sturdier and fancier, but a potential fire hazard in certain environments. Or maybe a shingle roof is not the best fit. There are always metal roofs, which can be configured to look like shingles. Or slate roofs, though they can be slippery when wet. Composition slates are synthetic, plastic and rubber and the like. Tile, such as clay and ceramic, are popular in certain states.
Replacing a roof | Union County Free Roofing Estimate
Roofs come in layers. Often it is the outermost layer that takes on damage and requires replacing. Sometimes, it is easier to simply strip the first layer and lay on top of the second existing layer. However, this old practice has a few safety issues at risk. If the roof has too many layers, such as three, the weight can prove dangerous. The new layer may not mesh well with the old. Or the new layer with accentuate imperfections in the old layer. However, hard work is required for removing old layers of roofing. That is where it comes in handy to hire a professional roofer.
Roofing estimates | Union County Free Roofing Estimate
A professional roof replacement is a long process that requires an incredible amount of effort. Time and cost vary due to circumstances. The condition the roof is in, and the type of required/requested installation. The better-quality shingles, for instance, the more expensive the price. There's a $10,000 range between low and high-end shingles of 30-year and 50-year shingles respectively. The time that you get the repairs also impacts the price. Hiring a roofer in the off-season will likely give you a better deal for the same quality.
Replacing a roof is an in-depth, and often expensive endeavor. So, if you find yourself in a situation where needs must, ensure that you receive the quality aid you deserve. The roof is too valuable to settle for anything less than the best. And while better quality roofs are often more expensive, it pays off in the end. Better to have an expensive roof that will last a long time than an inexpensive roof that will break easily. So, if you reside in Union County, a Union County free roofing estimate is best for you. Roofing repair is a delicate process, best left to professional hands. While some minor repairs can be handled personally, severe reroofing is work best outsourced. Outsourced from you to hard-working, reliable local roofing businesses. So do not settle for less, and put your roof in hands you can trust.
Somerset County Roof Replacement
Somerset County Roofing Repair
Somerset County Free Roofing Estimate