South River Roof Repair. Need some roof repairs done on your home? Penyak Roofing, Co does Middlesex County roofing repairs. Nobody wants to replace a roof prematurely. There are some issues that suggests you need some roof repair. If you need to have your roof inspected, contact a professional roofer to come and inspect your roof for any repairs needed.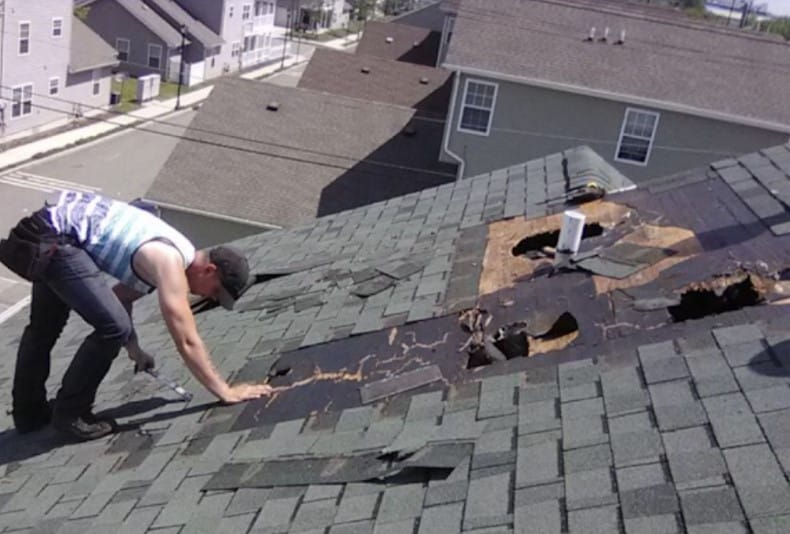 South River Roof Repair | Roof Age
The age of your roof can mean the difference between needing roof repairs or a new roof replacement. The older the roof and the more intense the damage because of the condition of the shingles and materials. If you live in an area that all houses were built at the same time and you acknowledge that your neighbors are replacing their roofs, it may be time for yours.
South River Roof Repair | Leaks
Leaks on a roof can be large or small but the damage can be huge. You can see water damage as stains, rotten wood or mold. If you see any water where it doesn't seem it should be there could be a bigger hidden problem. It is best to have an experienced professional roofer to inspect the issue.
South River Roof Repair | Light
If a homeowner sees some daylight shining through the roof, there may be an opening or hole in the roof. A brief and faint glow showing through the vents can be normal but beams of light shining through the roof can be a signal that there is an issue with your system. After many years shingles start to deteriorate and curl up. Edges begin to curl up and start to bulge which is from loss of durability and uplift from wind. Harsh and severe weather can also tear these shingles off of the roof which also signifies that they were installed incorrectly or there may be an underlaying issue as well.
South River Roof Repair | Granule
Mineral granules are added to the material of the shingles because they help protect your roof from sun exposure which can lead to damage. Granules also increases the fire resistance to your roof which is an additional layer protection to your home. When there is loss of granules and they show up in the gutters, there could be some deterioration of the shingles. Some granule loss is ok because it is normal wear and tear, but older shingles lose granules quicker. It is best for a professional roofer to inspect if there is any damage.
South River Roof Repair | Ice Damming
An ice dam forms when snow is on the roof for a prolong time, melts and refreezes. Once this happens multiple times, it pushes water under the shingles and could start leaking inside the home. If a roofing system is properly ventilated ice damming can be prevented. When there is ice damming that means that the ventilation is not working as it should.
South River Roof Repair | Moss
Moss growth is harmless to the roof but if left overtime it can cause severe damage. Moss absorbs water and grows in spaces between shingles. A saturated roof can cause significant decay.
South River Roof Repair | Animals
If you find small animals in your attic, it may mean that a part of the roof is missing. Animals can damage your roof. Roofs that have damage from severe weather softens the roof and helps the animal tear through the roof easier. Once there is a hole made in the roof, water has easy access to cause more damage.
Searching for the best South River Roof Repair company? Penyak Roofing, Co. is the place to hire. Your roof is one of the most important components of your home. It protects it from weather and any animals from entering. If you need some roof repair or an inspection done on your roof contact Penyak Roofing, Co. today and we will come and give you an estimate. For over 55 years, we have prided our company on our values and strive for 100% customer satisfaction.
Somerset County Roof Replacement