For any roof repairs, it's always a good idea to consult a professional roofer. Evaluating the extent of roof damage can be tricky to the untrained eye. Without the proper equipment and experience, climbing onto a roof can be dangerous. If you think your roof needs repair, don't hesitate to contact a Middlesex County residential roof repair company. Offering free estimates and evaluations, a professional roofing company can assess the degree of damage and advise you. They will explain any work needed, making sure to give you a comprehensive estimate. In a quote, they should explain labor, materials and incidentals. When you get an estimate from a reputable builder, you know what to expect, and how long the job will take. Your roof is one of the most important features of your home, so don't take it for granted. For a free evaluation, contact a South Plainfield roof repair company.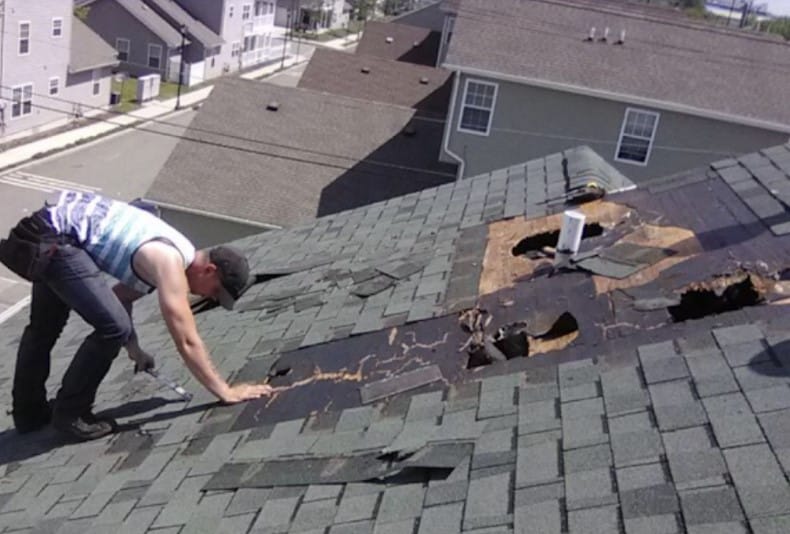 South Plainfield Roof Repair | Does Your Roof Need Repairs
Of course, if you can see spots on the roof where tiles or shingles are missing, it's in need of repair. But what about less obvious signs? Don't overlook damaged shingles. They don't have to be missing to need repair. Curling, warped shingles can leave gaps underneath where moisture can seep in. If you see granules coming off the shingles, and dropping onto the ground, they are deteriorating and need replacing. Cracked tiles or shingles are also at risk of allowing moisture to get in. If you see any signs of disrepair, call a professional roofer to prevent further damage.
South Plainfield Roof Repair | Chimney Cap Damage
While you are inspecting your roof for damage, don't overlook the chimney. During a comprehensive roof inspection, a reputable roofing company also inspects the chimney and cap. Repair damaged chimney caps right away. If you do not have a chimney cap, consider installing one. Chimney caps may seem insignificant extras, but they really do serve an important purpose. They keep debris, such as leaves and twigs from falling down your chimney. They keep rainwater and melting snow out, and they also prevent small animals and birds getting in. A chimney cap is an inexpensive, easy way to protect your chimney.
South Plainfield Roof Repair | Regular Inspections
While a roof repair company is there for you any time your roof has sustained damage, they offer many other services. Residential roofers also perform routine inspections, and maintenance programs. When a professional regularly inspects your roof, they can catch any damage before it gets worse. Call a roofing company after any high wind storms or heavy snowfalls to inspect for damage, and make any necessary repairs. Routinely scheduled inspections in spring and fall can also keep your roof in its best condition. Inspections make sure that your roof will stand up to any extremes in wind, precipitation or temperature.
For any immediate roofing needs, or to prevent future damage, call a professional roofer for an evaluation. While you can see some damage from the ground, to get a full picture, you have to get on the roof. Safety is important, so don't try to climb on a roof to repair it yourself. Roofers have the training and equipment to properly and safely repair roofs. A reputable roofing company will get any permits needed, and take care of all the local township requirements. If you are unsure what to look for in a roofing company, search out a licensed and bonded one. Look for a company in your area that offers all the services you need to keep your roof in perfect shape. For inspections and repairs, contact a South Plainfield roof repair company.
Somerset County Roof Replacement