In the market for the best Somerset County Roofing Repair company? Penyak Roofing, Co. is the place to hire for the best NJ roofing contractor. Waiting too long to get a roof repaired can lead to larger issues in the future. No homeowner wants to hear that their roof needs work but repairing early will prevent replacement too soon. There are a few signs that a homeowner sees on their roof that will lead him to contact a professional roofer for some repairs.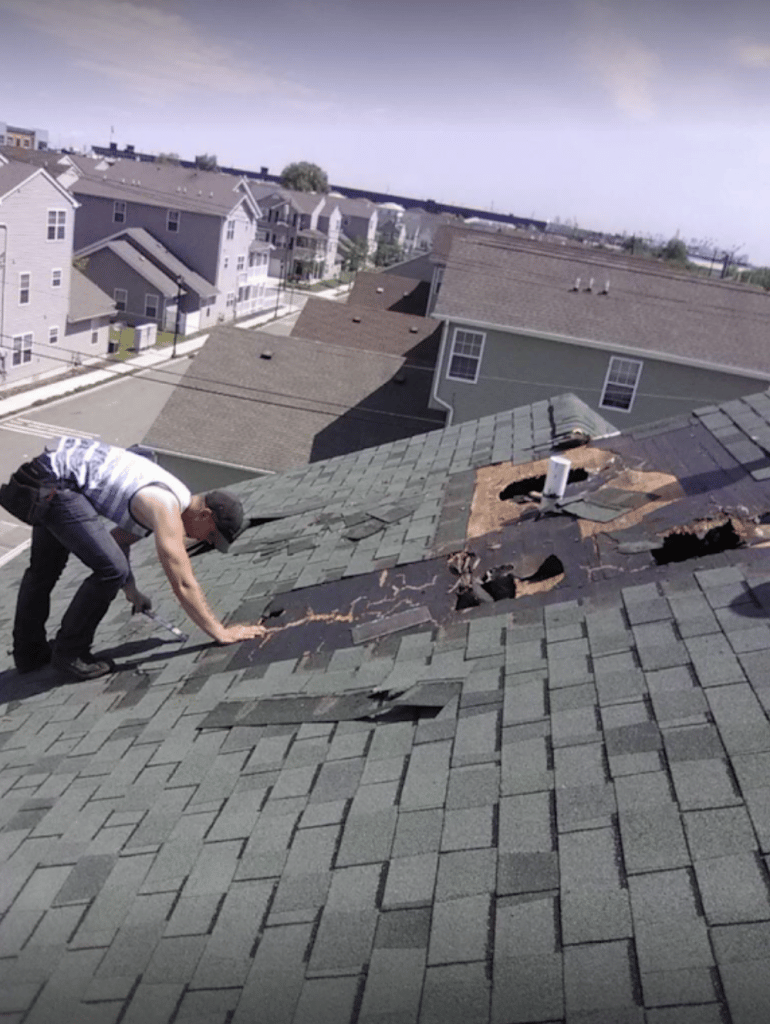 Somerset County Roofing Repair | Inspection
It is important to visually inspect your roof either by you or by a professional a few times a year to make sure your roof is in top shape. An exterior and interior inspection is needed a few times a year.
Somerset County Roofing Repair | Shingles
Damaged shingles that are missing, cracked or starting to curl can add more stress to the roof and increase the repair needed. If there are a few spots with small issues, shingles can be replaced fairly cheaply, but if there are bigger issues, a professional roofer will evaluate if a new roof installation is needed.
Somerset County Roofing Repair | Sagging
A roof has different degrees of pitch, visually it should look straight especially around the edges. If you start to see the roof sagging it is time to contact a professional roofer since there may be a bigger issue on your roof. If a homeowner does not notice any sagging on the outside of the home, there may be some sagging on the inside which can be some water damage. Hiring an experienced professional roofer will inspect the roof, attic and all areas of the roof deck to make sure it looks strong and secure.
Somerset County Roofing Repair | Gutters
If a professional roofer notices debris or pieces of shingles in the gutters, it could be a sign of roof deterioration. Some asphalt roofs start to break down with age then the debris from the roof gets collected in the gutters and the gutters can't work as they should keeping water away from the home. Noticing some streaks or dark spots on the roof is a sign of algae, which usually happens when there is moisture that is not drying properly. Therefore, some repair is needed on the roof. There could be water leaking inside the home and you may not be noticing it. Take a look in your attic regularly to see signs of moisture or mildew.
Somerset County Roofing Repair | Exterior Light
The last thing homeowners want to see is sunlight coming through the roof. This is a definite sign of trouble on the roof. Leaving this hole in the roof can cause major damage to the home. Contacting a professional roofer is the best thing you can do for your home.
Searching for the best Somerset County Roofing Repairs? Contact Penyak Roofing, Co. right away! Taking care of problems on your roof as soon as possible helps cut down on expenses that are needed to fix the roof. Penyak Roofing, Co. provides all their customers with quality work using the highest quality materials. Our customers are always welcome to visit our office in South Plainfield, New Jersey for a free estimate. With over 55 years of servicing homeowners with all their roofing needs, Penyak Roofing, Co. prides themselves on their values: quality, approachability, fairness and affordability with every job they take. We are committed to our customers by providing quality work at competitive prices. Give us a call at (908)753-4222 today and let us get your roof in its best shape ever!
Somerset County Roof Replacement