Keeping your home's roof in good shape might be more involved than you think. Your roof is a very important part of your home, so you shouldn't overlook its care and maintenance. Annual evaluations are an important part of its upkeep, but there are other things you can do to protect it, too. Gutter maintenance is an often overlooked part of roof care. Also, to prevent damage, keeping it mold-free is also an important aspect of roof maintenance. To save you time and money, you need the services of a comprehensive Somerset County roofer to do it all. Climbing on a roof to carry out inspections, repairs or even just to repair gutters, can be dangerous. In order to safely care for your roof, always call a professional Somerset County local roofer. When you find a company you can trust, you can trust them with all aspects of your roof.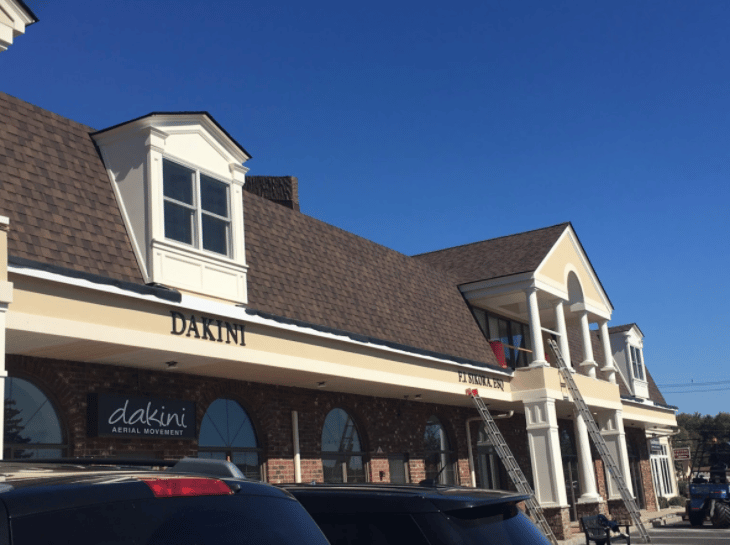 Somerset County Local Roofer | Gutter Care
It is important to keep your gutters clear and in good repair in order to protect your roof. When gutters clog with leaves and debris, water cannot flow freely. This water collects at the roofline, which can cause damage to your roof. In the winter months, standing water freezes and thaws all season long, and ice dams can form. The freezing and thawing cycle result in the buildup of ice dams, which cause stress to roofing materials. During the warmer months, standing water in clogged gutters becomes stagnant. Resulting mold and mildew growth can eat away at your roof. Have your local roofer check your gutters regularly.
Somerset County Local Roofer | Roof Repair
If you notice any signs of roof damage, it is important to call a professional without delay. When you wait, small problems will just become large, costly ones. Missing shingles or tiles need replacing quickly before moisture can get underneath. Once water gets under your roofing materials, it can quickly spread. It can cause damage inside your home, too, in attic spaces and bedrooms. Any dark patches in these areas indicate the presence of moisture, which can lead to unsightly, unhealthy mold and mildew. You also need to call a local roofer if you spot granules missing from shingles so they can replace them.
Somerset County Local Roofer | Why You Need a Professional Roofer
Not every homeowner has the proper tools and ladders to repair roofing, and without them, roof work can be very dangerous. When you call a professional, you are protecting yourself and your property. They have the necessary equipment and training to take care of your roof year round, and keep it in good condition. As part of your roof's maintenance, they should also care for your gutters. Keeping your gutters clear is important for your roof's health, and your roofer can install gutter guards to protect it. You can save time and money when you find one comprehensive roofing company to care for your roof.
Your roof is a very important part of your home. It protects your family from the elements, and keeps you warm and dry. However, it can only do that when it is in good shape. To keep your roof healthy, you need to address any small problems before they become large and expensive. Gaps in roofing materials, and curling or cracking shingles need addressing quickly. Granules from shingles on the ground or on decks are a further indication of deterioration. When you need a competent, reliable roofing company, call a Somerset County local roofer you can trust. You can save time, money and stress when you use one dependable company to care for your roof and gutters.
New Jersey Roofing Contractor | Penyak Roofing
Related Posts:
Middlesex County Roof Replacement
Middlesex County Free Roofing Estimate
Somerset County Commercial Roof Replacement