Somerset County Gutters. Are you looking to find the best Somerset County Gutters company? Penyak Roofing Co. is the place for all your roofing services. Gutters are usually made of steel or aluminum and can last about 20 years. Gutters that are made of copper will definitely last a lot longer, even 50 years. But gutters that have been damaged by fallen tree limbs or excessive use of a ladder, they may need some repair or even replacement. A homeowner does not want to have a gutter system that is dysfunctional because it can further damage your roof and home. There are a few signs that indicate you may need some work done on the gutters or get them replaced.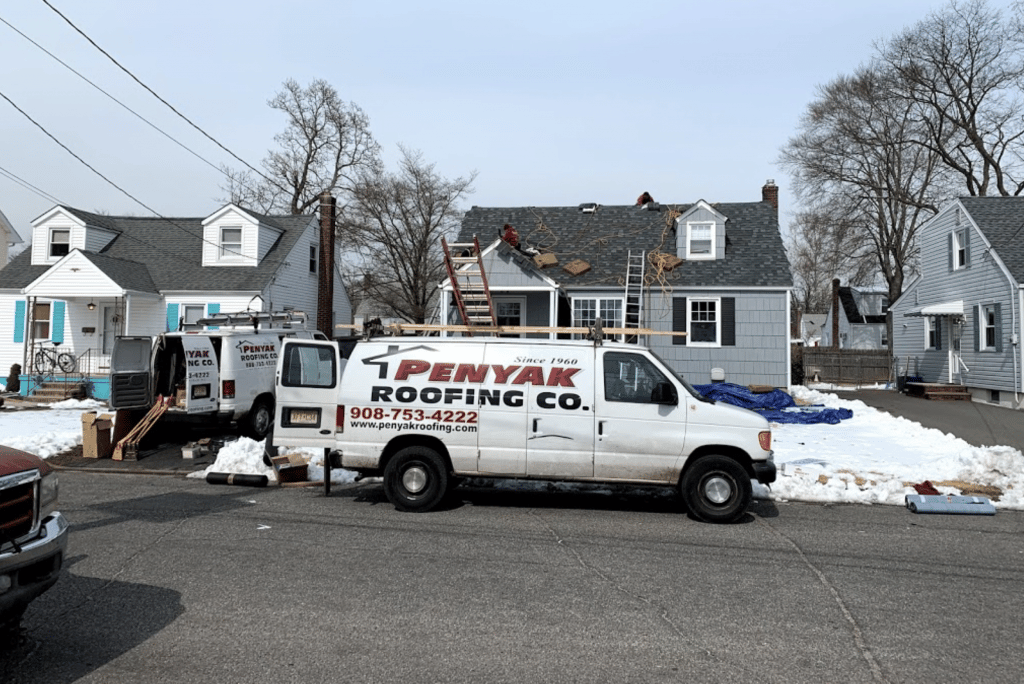 Somerset County Gutters | Cracks
When there are a large number of cracks or holes in the gutters, they need to be replaced. Some may be able to be fixed using some sealant but if there are six or more areas that have holes and damages, you may want to go for all new gutters to be replaced in your home.
Somerset County Gutters | Fasteners
The pieces of metal that hold the gutters to your roof and keep them leveled off are called fasteners. These fasteners when broken, may need to repaired or replaced. If it consistently falls off even after getting new ones, the gutters themselves may be the issue. Have a professional roofer come and inspect the roof and gutters. When homeowners start to see nails or screws on the ground by their home, they could be coming from the fasteners on the gutters. Again, they are easy to replace but when it keeps happening too often, there may be a problem with the gutters themselves.
 Somerset County Gutters | Gutters
Guttering systems only function properly if they are fastened together. If they begin to separate from one another too often, it may be time to get your gutters replaced. Once they start separating, water will not pass correctly through the gutters and therefore will start leaking and can cause further damage to the roof and home. As well as gutters pulling away from the roof, more damage can occur to your home. You may have a professional roofer hammer the fasteners onto the roof, but if they continuously detach from the roof, you may need to replace your gutters.
Somerset County Gutters | Pooling Water
Sagging  gutters create pooling water. If a proper pitch is not maintained on the gutter system, the water will pool in different sections and spill over causing damage to the roof or home. Also, when gutters pull away from the roof, the water can seep inside the siding or trim causing paint to peel. If you are seeing paint peeling throughout and around the gutters, gutters may be pulling away from the roof especially when it is raining.  After a rain event, you may notice water spilling over your gutters, you need to consider getting a new gutter system installed to protect your home. When having flooding in your basement near where you are seeing water spilling over the gutters, this can have a costly damage effect. If you need to repair your basement because of the gutters, it would be wise to replace the gutters to prevent from it happening again.
Searching for the best Somerset County Gutters? Penyak Roofing Co. is the place to call. Penyak Roofing Co. has been providing homeowners roofing needs for over 55 years. We have prided our company on our values; quality, approachability, fairness and affordability. Penyak Roofing Co. provides quality work and dedication to our customers in the tri-state area. Give us a call today or come and visit our website.
Somerset County Roof Replacement
Somerset County Roofing Repair
Somerset County Free Roofing Estimate
Somerset County Commercial Roof Replacement