Your roof is a very important part of your home. It keeps out the elements and keeps your family warm and dry. But your safety is important, too. If your roof has visible signs of damage, you should always call a professional to carry out any repairs. Climbing on a roof can be very dangerous unless you have the proper training and equipment. Every year, many homeowners sustain injuries from slips and falls from roofs. To keep your roof and yourself in one piece, contact Middlesex County roofers for all aspects of roof maintenance. From routine maintenance to repairs due to storms, or even complete replacement, they do it all. Professional roofing companies also install gutters and guards. Gutters may not seem roof related, but clogged gutters can have a negative impact on your roof. When in need of a professional roofer, Middlesex County homeowners stay safe and call us.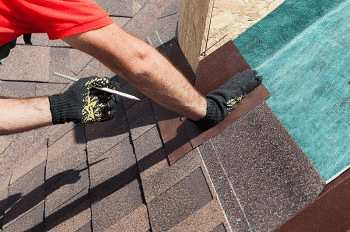 Roofer Middlesex County | Choosing a Professional
As a homeowner, maintenance is an ongoing thing, but there are certain jobs that you should leave to a professional. For your own safety and that of your property, you should always call a professional company for roof work. When selecting a roofing company, it is important to check out credentials to ensure professionalism and to guarantee workmanship. Look for accreditations from roofing manufacturers, as this guarantees that the company keeps up with the latest training. There are strict criteria roofing companies must fulfill to achieve these credentials as well as listings with business bureaus. Also for complete protection of your property, only choose fully insured and licensed companies.
Roofer Middlesex County | Gutter Maintenance
An important but often overlooked part of your roof, is the gutters. Keeping your gutters in good condition helps maintain your roof. When gutters clog with wet leaves and debris, the water can no longer flow freely from the roof. In the summer, standing water becomes a breeding ground for mosquitoes, and it also encourages mold and mildew growth. During the cold winter months, this water freezes at the roof line, causing ice dams. Ice dams constantly freeze and thaw as the temperature changes, causing stress to your roof and shingle damage. Ask a roofing professional about gutter guards to keep your gutters clog free.
Roofer Middlesex County | Roof Replacement
Unfortunately, there comes a time when roof maintenance is no longer enough. When you can see that the condition is really bad, your home simply needs a new roof. Look out for cracked or curling shingles, as these can cause water to get underneath, causing rot and decay. Shingles have small granules on them, but when the shingles are in bad condition, these granules fall off. If you see bald spots on your shingles, or granules in gutters or on the ground, they need replacing. If you see any signs of severe roof decay, contact your local roofing company for an evaluation.
Regular roof maintenance is just a standard part of taking care of your home. Your roof has a very important job to do, so it is important to keep it in good condition. In the event that your roof does need repair, or possibly, total replacement, always consult a professional roofing company. Roofing can be very dangerous work, and requires specialized tools and training. When you call a licensed, insured roofer, you can guarantee your own safety, and a high standard of work. As part of regular roof maintenance, make sure gutters are always clear. Standing water can cause many problems for your roof like rot, mold and mildew and ice dams in winter. If you need a roofer, Middlesex County roof and gutter specialists are here to help.
New Jersey Roofing Contractor | Penyak Roofing
Related Posts:
Middlesex County Roof Replacement
Middlesex County Free Roofing Estimate
Roofing Contractor Middlesex County NJ