Maintaining your roof is an important part of home ownership. Keeping your roof in good condition protects your home, and prevents large, costly repairs. By taking care of problems quickly, you save time, stress and money. If you suspect your roof has damage, or is old, schedule an inspection with your local roofing company. Do not just trust your roof to anyone, however, you need a reliable, comprehensive roofing contractor. When you are looking for Somerset County roofers, make sure to find a company with a full line of services. Trusting one company to care for all aspects of your home's roof saves you time and energy. Also, roof repair can be dangerous, so leave it to a professional with training and expertise. From repairs to replacements, gutters to skylights, find one company that does it all. Whenever they need roof repair, Somerset County homeowners rely on just one company.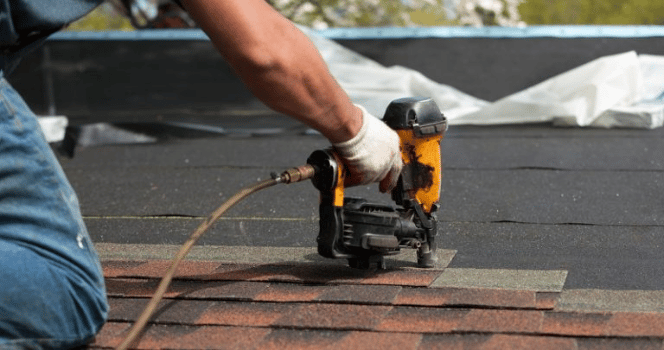 Roof Repair Somerset County | Roofing Services
Trusting all your roofing needs to one company makes fiscal sense, and saves you time and energy. You need a company that offers gutter repair as well as roofing. Gutters are an often overlooked part of roof maintenance. Keeping your gutters clear and in good repair helps your roof. When gutters clog, water cannot flow freely away from the roofline. Standing water can pose a threat to your roof no matter the season. In summer, it can encourage mold and mildew growth, and in winter cause ice dams. Roof cleaning is also a large part of mold prevention, so your roofing contractor should take care of that, too.
Roof Repair Somerset County | Staying Safe
Because climbing on a roof is dangerous work, you should always leave roof repair to a professional. There are many home repairs that homeowners can do, but roofing takes skill. If you do not know what you are doing, you can fall and injure yourself, or make costly mistakes. Roofers have the experience and training necessary to safely perform roof work. They also have scaffolding and tools which the average homeowner just does not have. You can save time and energy by hiring a professional, this is their trade, after all. No one wants a leaky roof while they are trying to find the time to fix it.
Roof Repair Somerset County | Finding a Company
When you are looking for a fully comprehensive roofing company, a little research can go a long way. You need to make sure, firstly, that the company offers all the services you are looking for. Make sure to read reviews and look at photos of past work they have completed. Look for listings with business bureaus, and for accreditations that guarantee training and quality workmanship. These accreditations mean that the company has undergone rigorous training and meets latest industry standards. Have a list of questions ready, and do not be afraid to ask about free estimates. It is important that you are comfortable with who you are hiring.
Your roof is such an important part of your home, you should not just trust it to anyone. Not all roofing companies offer a full line of services, or have the same training and qualifications. Make sure to do a little homework before you pick up the phone, and only call fully insured, licensed contractors. This protects you and your family. You can further guarantee workmanship and expertise by taking the time to read websites and look for certain credentials. Look for accreditations from suppliers and business associations, all indicators of quality materials and work. For gutters, cleaning and roof repair, Somerset County roofing specialists can help you with all your roofing needs.
New Jersey Roofing Contractor | Penyak Roofing
Related Posts:
Middlesex County Roof Replacement
Middlesex County Free Roofing Estimate
Somerset County Commercial Roof Replacement