Winter is winding down and home owners are busily checking the condition of their homes. Are you one of the many looking into North Brunswick roof repair services? Staying on top of regular roof maintenance is important especially when the weather finally becomes more stable. Does your roof have physical signs that are visibly alarming? Do you need emergency repairs due to structural damage? Reaching out to the professionals is the quickest way of discovering how much attention your roof really needs. Has the ice and snow damaged your gutters or drain pipes? Springtime is the perfect season for a comprehensive inspection of your homes exterior from the top down.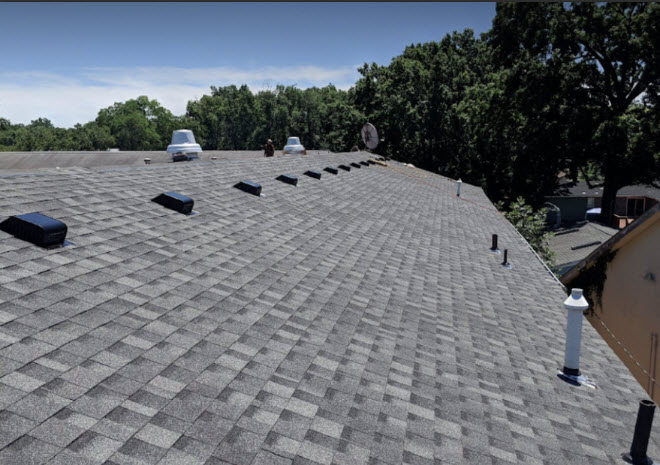 Weighing all of the options | North Brunswick Roof Repair
Home owners must treat emergency needs quickly in order to protect their investment but should also weigh their options. Your roof may need emergency repairs but an experienced contractor offers insight for extended protection. Avoiding future issues is the goal behind a thorough inspection.
Depending upon the extent of the damage, home owners might opt for a completely new roof. Your situation allows you an opportunity for making modifications to the existing structure. Capitalizing on an emergency issue for the purpose of upgrading or improving your roof is a win, win situation. Whether your repairs are minor or major an experienced contractor can help you make the best decision.
Turning repairs into complete makeovers | North Brunswick Roof Repair
Are you already looking at upgrading the siding of your home for aesthetic purposes? Why not turn your roof repair job into an opportunity to change the color scheme? You can choose from a wide variety of materials and get under a brand new roof that compliments your décor. Your professional roofing company provides as many quotes as you need for this important decision.
Do you have a detached garage or another secondary structure with a roof that doesn't match your home? Are there tall trees contributing to discoloration on a portion of your roof? Roofing contractors offer experience in dealing with all the issues home owners face. You may not know all of the issues affecting your decision which is why professional input is so valuable. Transforming a roof repair into a complete makeover is one way of accomplishing a greater goal. You can rely on the experience of professionals when evaluating your ideas.
Necessary repairs done quickly and efficiently | North Brunswick Roof Repair
Home owners love contractors who show up when scheduled and complete their work as expected. Getting quality service for your home is important which is why contractors strive for excellent customer satisfaction. Do your neighbors and family have a roofing company in mind? Are you new to the area and looking for recommendations? Home owner word of mouth is exploding in this digital age and satisfied customers are always willing to share. Expecting the best quality work along with a friendly team of professionals is common among home owners.
Are you ready for a North Brunswick roof repair company that treats you like family? We pride ourselves on offering the best quality workmanship along with friendly service. Our goal is ensuring you are completely satisfied to the point of sharing your experience with others. Whether you need routine maintenance, an inspection or have major damage we're ready to help. You can give us a call to schedule an appointment, for an estimate or for answers to your roofing questions. Our team is always ready and willing to offer our time and expertise. Your next roof repair job is only a phone call away and we look forward to serving you.
Somerset County Roofing Repair
Somerset County Roof Replacement