Does your property have roof damage that needs Middlesex County commercial roof repair? As a business owner, you know that the roof plays a vital role to keep your building in working order. It protects inhabitants from the weather, animals, and anything else that may be outside. If your roof is damaged, it should be a top priority to get it fixed up. If you let your roof damage go unattended it will only get worse and leave you in a very costly situation. You might be wondering if it's time for you to get a Middlesex County commercial roof repair. Below are some indications to look for.
Middlesex County Commercial Roof Repair – Signs That It's Time to Make the Call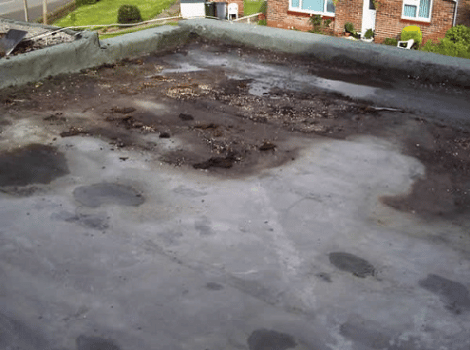 Damaged Flat Roof Flashing:
Note the metal strips that run along the edges of your roof. Their purpose is to secure your roofing materials and prevent water or any other debris from compromising your system. Is your flashing bent, rusting or otherwise damaged? If your roof flashing is not well-sealed, there is a good chance that water can seep into your commercial roof system. By addressing this problem as soon as possible, you can either prevent or keep water damage to a minimum.
Cracked or Blistered Roof Surface:
Check for any cracking, bubbles or blisters on your roof surface; this could be a sign of trapped moisture, and that can lead to leaking. Blistering occurs when there are pockets of air or moisture trapped between the roof membrane and deck or between layers of the membrane itself. It's not a good idea to ignore because the blisters will worsen and lead to more serious problems.
Commercial Roof Leaks:
While it's normal to have some standing water after a storm, that water should drain or evaporate within 48-72 hours. If not, it can lead to major leaks and cause premature aging of your flat roof.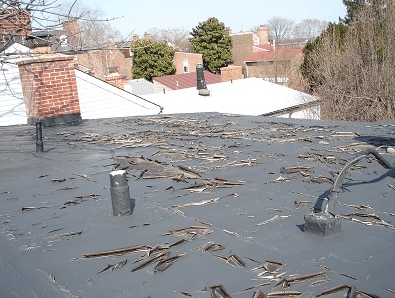 Interior Water Stains:
Sometimes you can detect problems within your commercial or industrial building. If you notice a water stain on the ceiling or walls of an upper floor, it's time to investigate the possibility of damage to your roofing system.
Mold/Strange Odors:
Another red flag that you might spot inside your commercial building is mold or foul odors. This could result from water breaching your roofing system, or perhaps the exterior of your building. Be sure to have a professional roofing inspector look for any problematic areas.
These are just a few of the more easily assessed signs of when you need to get your roof repaired. Keep in mind that if your roof has extensive damage or is past that 20-25 year threshold, you should probably look into getting a roof replacement.
Looking for the Best Company for Middlesex County Commercial Roof Repair?
Searching for the best company for Middlesex County commercial roof repair? Penyak Roofing is the place to contact. For over 55 years, we have prided our company on our values, which are: quality work, approachability, fairness, and affordability. Our company provides quality work and dedication to our customers in the tri-state area. Penyak Roofing is licensed and fully insured in the state of New Jersey and is a member in good standing with the Better Business Bureau. Our customers are always welcomed in our South Plainfield office. Penyak Roofing is committed to its customers by always giving good quality work at competitive prices. If you are in need of a roof repair or a new roof, don't hesitate to contact Penyak Roofing to receive your free estimate.
New Jersey Roofing Contractor | Penyak Roofing
Related Posts:
Middlesex County Roof Replacement
Middlesex County Free Roofing Estimate
Middlesex County Roofing Repair
Somerset County Commercial Roof Replacement
Best Roofer in Middlesex County
Middlesex County Residential Roofers