Best Roofer in Middlesex County. Are you searching to find the best roofer to work on your home? You need a Middlesex County free roofing estimate. The biggest job for a homeowner is looking for someone to replace or repair their roof. Choosing the right person for the job is not that easy. Finding a contractor that is trustworthy, honest and professional takes some steps. There are a few tips that will help a homeowner find the right company to work with to work on their home.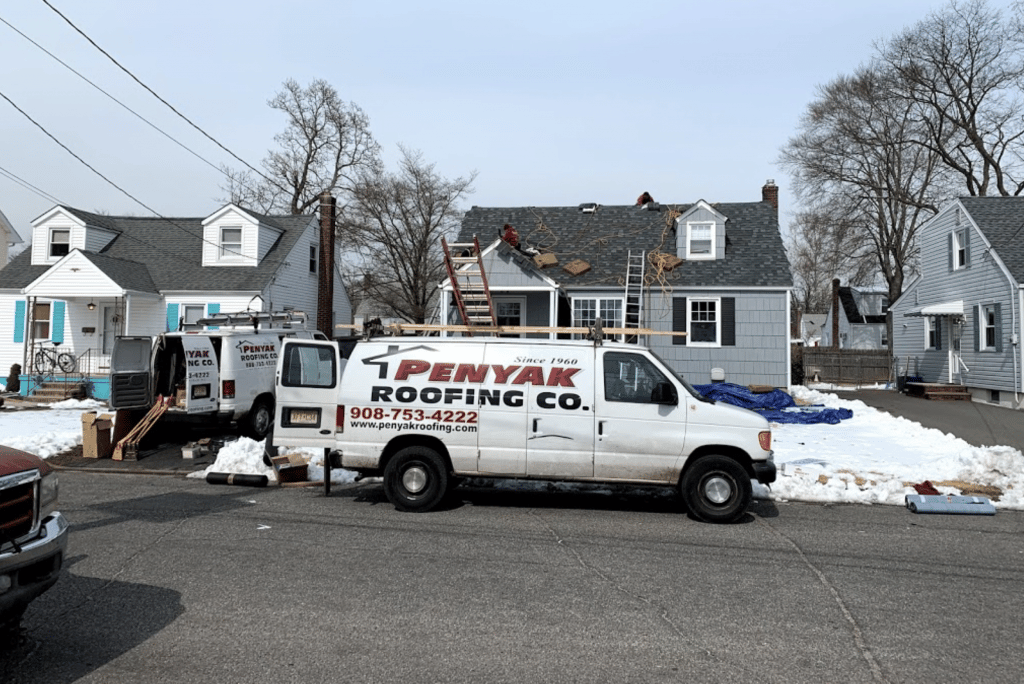 Best Roofer in Middlesex County | Referrals
When looking for the best roofer to work on your home, it is best to get some referrals. Choosing a contractor from your community will reduce your chances of a potential issue or scam. They are already familiar with local rules and code laws. They also could have a relationship with the area crews and suppliers, making supplies easier.
Best Roofer in Middlesex County | Better Business Bureau
It is very important to check how the professional roofers rate with the Better Business Bureau. Stay away from contractors that do not exist with the Better Business Bureau. Contractors should maintain a satisfactory rating with the Better Business Bureau in order to retain their certification with GAF Master Elite. Master Elite certification is a factory certification program that provides training to roofing contractors to properly complete their jobs well and professionally. If you hire a roof contractor that has GAF Master Elite certification, you are dealing with a quality and dependable professional contractor.
Best Roofer in Middlesex County | Warranty
A Master Elite contractor can offer the longest workmanship warranty on the market today. You are able to get an extensive warranty with a professional contractor. The contractor should have insurance for all their employees. If you find a contractor that does not have adequate insurance, do not hire them since it can cause issues between the contractor and homeowner if a roofing employee sustains injuries while working on your home.
Best Roofer in Middlesex County | Safety
A roofing contractor is always concerned about safety. A contractor without the proper training or safety program is not the best person for the job. GAF is the only roofing manufacturer with a dedicated team of trainers that are committed in the industry. Never give in to pressure. Contractors that pressure a homeowner to sign a contract without finding out more about them is dangerous. The contractor should thoroughly examine the home and check that there are no other damages not taken care of. A contractor that does not offer a variety of shingles, with different styles and colors, they are not looking out for your best interest. A GAF roofing contractor can offer extensive design and color choices for your home. Knowledge is definite power.
On the market for the Best Roofer in Middlesex County? Penyak Roofing is the place to call. Your home is an investment for you and your family. Protect that investment with Penyak Roofing. We are a family owned company that has been serving the community for over 55 years with all their roofing needs. We understand the need to provide for your home using high quality materials, certified manufacturers and industry warranties. When you call us, you will receive a no stress, no obligation estimate from our knowledgeable professionals. We specialize in shingle and flat roofing systems. When you hire us, no job is too small, too big or too hard. We will make it easy for you and will minimize any interruptions. We'll leave the place cleaner than we found it. We strive for 100% customer satisfaction and use only the highest quality materials. Call us today!
New Jersey Roofing Contractor | Penyak Roofing
Related Posts:
Middlesex County Roof Replacement
Middlesex County Free Roofing Estimate
Middlesex County Roofing Repair
Middlesex County Residential Roofer